Employee Spotlight: Lydia Inboden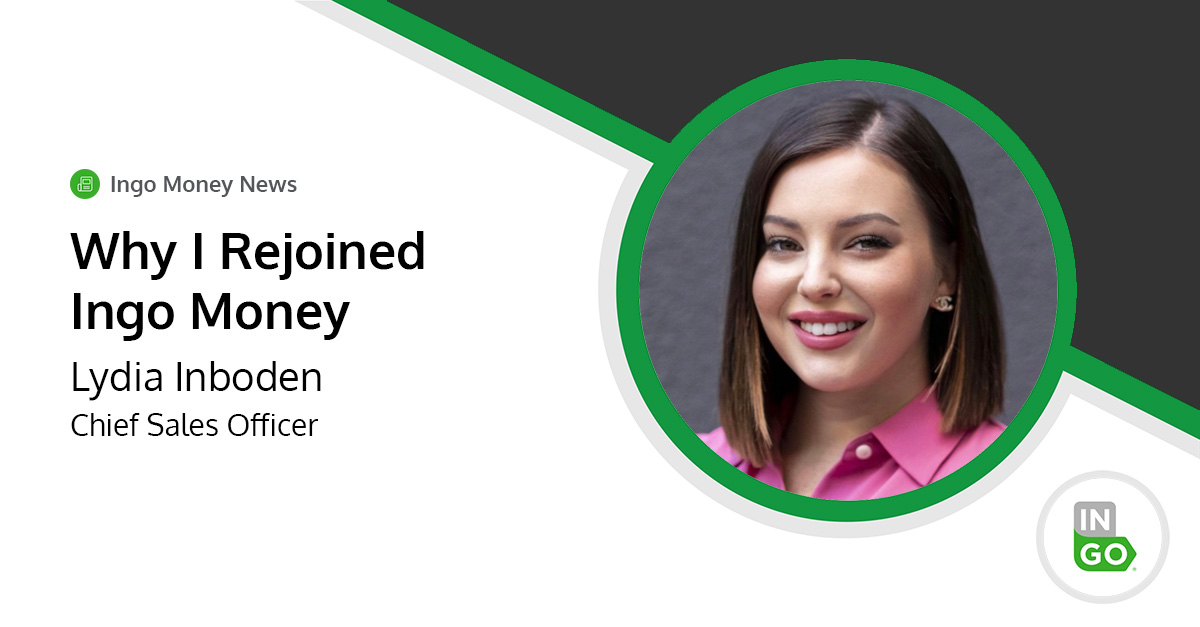 In my case, a better title for this column would be "Why I Rejoined Ingo Money."
I originally began working at Ingo Money in 2016 and left roughly five years ago to pursue other opportunities. I have now been back for a couple of months and am so happy to be amongst old friends and colleagues.
From push payments to card issuance to banking-as-a-service and even crypto, I've helped shape and scale a number of industries over the course of my career. But returning to Ingo this time around has helped drive home what I value most in a product, a team and a workplace culture.
I had kept in touch with Drew over the years as I brought Ingo into some deals because of my belief in the tech and the team. But I was not actively considering rejoining the company when I reached out to bend his ear about a few ideas earlier this year and was unaware he was searching for a new sales leader. However, it quickly became apparent that the stars were aligning and this was the place I should be at this stage of my career.
That was immediately reinforced when I started again at the company and realized how many of the product and customer team members were the same. It was a testament to Ingo – its business and its culture – that so many people were still with the company five years later. A rarity in this business.
Those first few weeks reminded me of what I'd been missing and gave voice to what I love so much about Ingo. It's the trust. The trust in a product that will perform as advertised, the trust in a team that will do their jobs to the best of their abilities, and the trust in a leadership team that has your back and your best interests at heart. It felt like family.
As the Chief Sales Officer, I love the Ingo story. This team cut its teeth on mobile check cashing- one of the riskiest financial instruments in the digital environment. They then built the industry's premier push payments platform and pioneered the idea of Money Mobility.
At nearly every turn, the company has been ahead of the market, and now the market is coming round to meet us. From sectors like lending to insurance to service industry tipping, the value of Money Mobility and embedded instant solutions have become a core business differentiator. And Ingo is primed to deliver.
That puts us in the pole position. My first go-round here we had to sell the "why" because few understood push payments or how it would benefit their business. Now that Money Mobility has become the de facto standard, customers are doing their homework on the "who" and then reaching out to us as the clear market leader. There isn't much need for education – it's all about working with companies to design the solution that's best for them.
Which speaks to another of our strengths. Ingo doesn't stop at the sale. Our team is consultative with every client. We are not selling products off a shelf – we are tailoring them to each customer's needs and then helping them manage and optimize them over time.
Lastly, I admire the tenacity of this team and its willingness to take on new challenges. For example, in the new high-risk, highly regulated category of online gaming, everyone dug in with our client Caesars to help them launch real-time payouts for their Sportsbook customers. That level of commitment and engagement is simply in our DNA, and all our clients benefit from it.
As a sales team leader, I know this combination of expertise, tenacity and engagement is rare, and I couldn't ask for anything more. It feels good to be home.