Ingo Money Tops $1B a Month in Disbursements Volume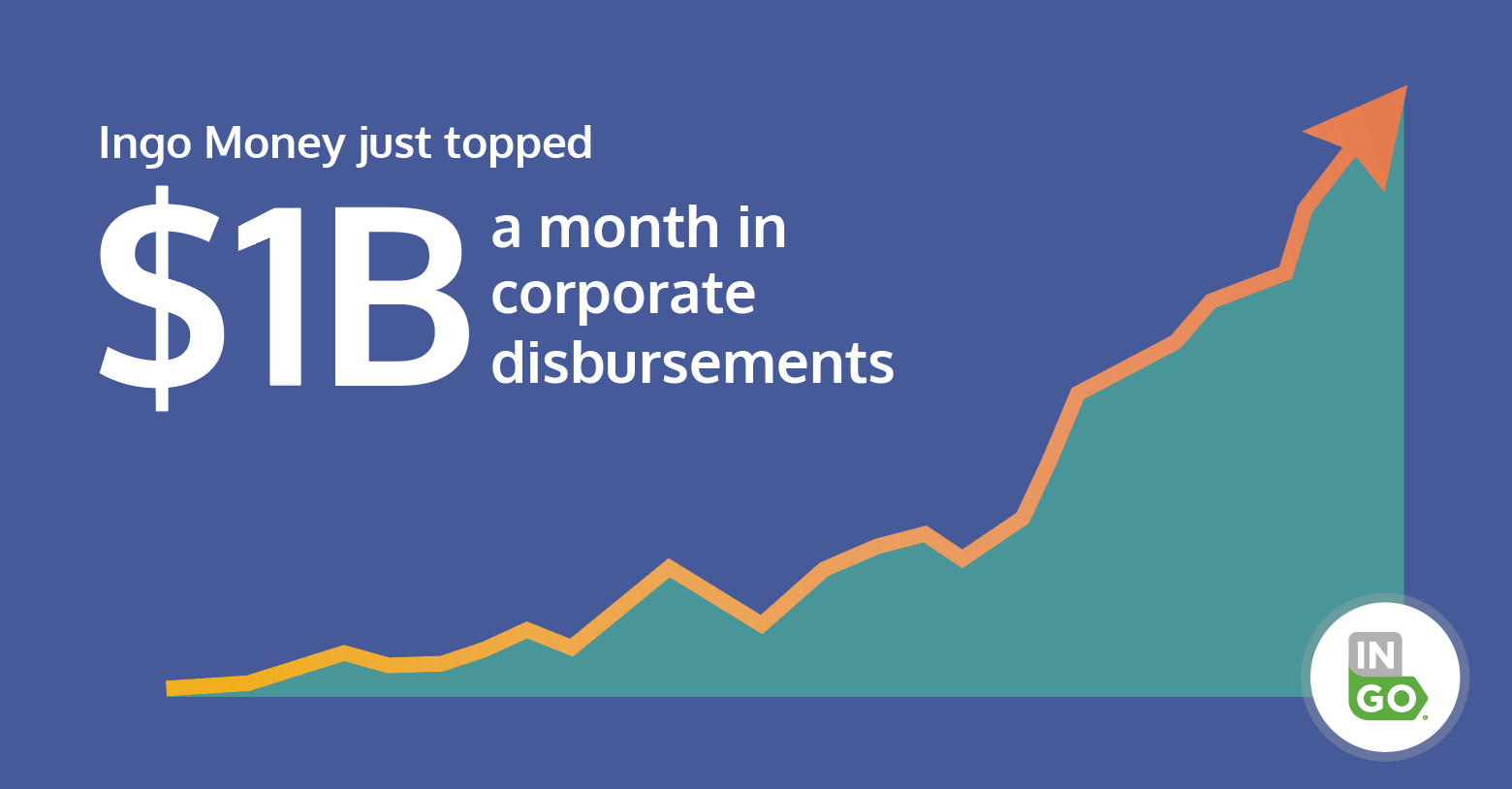 We are incredibly excited to share the news of this milestone. Reaching one billion dollars in monthly corporate disbursements volume on the Ingo Money platform is a tremendous validation of our team's hard work and expertise as well as the technology underpinning our solution.
A sincere thank you to everyone who has been a part of this journey.
Hitting this incredible milestone also led me to reflect on how much we've evolved as a company and industry over the years. In the same year that Ingo launched more than two decades ago, the iPod and Xbox gaming console were also just being introduced to the world and a company named Confinity was officially changing its name to PayPal.
A lot has changed in both technology and payments since then.
When we launched our push payments platform, we often had to educate potential customers on what a push payment even was. At that time, few companies were using existing payment rails in reverse for real-time, ready to spend disbursements.
Ingo was the first U.S. Fintech to enable instant debit card funding with Visa even before they branded it Visa Direct. Our vision to transform traditional corporate disbursements as digital push payments was powerful, and it was early.
Flash forward to 2022. Perhaps even more remarkable than reaching one billion dollars per month in corporate disbursements is the nature of these dollars. Early on, the lion's share of card network "push to card" volume was coming from P2P and early wage access use cases such as Square, PayPal, Uber, and Lyft. These involved fully digital relationships, making new payment flows easy to integrate and often generating revenue for the payor.
But now, Ingo has cracked the code on the more difficult, traditional corporate disbursement use cases that have been dominated by checks and cash for hundreds of years: insurance, lending, tipping, wagering, and more. Many of these required significant process change and new technology to shift from "the check's in the mail!" to "how do you want your money?" with instant digital options enabled.
Ingo was the first to figure this out and it's now paying off and even accelerating. We are fortunate to have as part of our client roster premier brands and household names in banking, consumer and small business lending, insurance, challenger banks, digital wallet and super app providers, payroll and tipping providers, digital sportsbook/gaming apps and more.
We've evolved from leading edge, small dollar digital payments to the meaty end of the stick – true corporate disbursements at scale.
But I'm even more excited about what's next. We stand on the precipice of an enormous explosion in payments innovation and demand with the dawn of money mobility.
Driven by consumer expectations for instant everything in other aspects of their lives and accelerated by the pandemic and the rise of new card and account issuers, the demand for money mobility has taken hold. This is the ability for consumers and businesses to move money instantly and safely, without friction, into and out of literally any account they own.
Multiple studies have documented the importance of this capability and its importance to a brand. Consumers have been up-front in saying they will vote with their wallet and switch providers if their desire for money mobility features are not met.
As money mobility becomes table stakes, the demand for Ingo Money's unique payments platform will grow exponentially. Every company issuing an account or offering a digital wallet needs to provide seamless, instant, and secure money-in and money-out capabilities.
And with connections to more than four and a half billion consumer accounts and over twenty years of risk management experience across our network, Ingo Money is attracting a rapidly growing pipeline of major players in the new economy.
So, congratulations and thank you to our team, partners, and customers. But buckle in because this is just the beginning. Here's to a billion dollars a day!