The Future Of Instant Payments Hangs on Convenience and Choice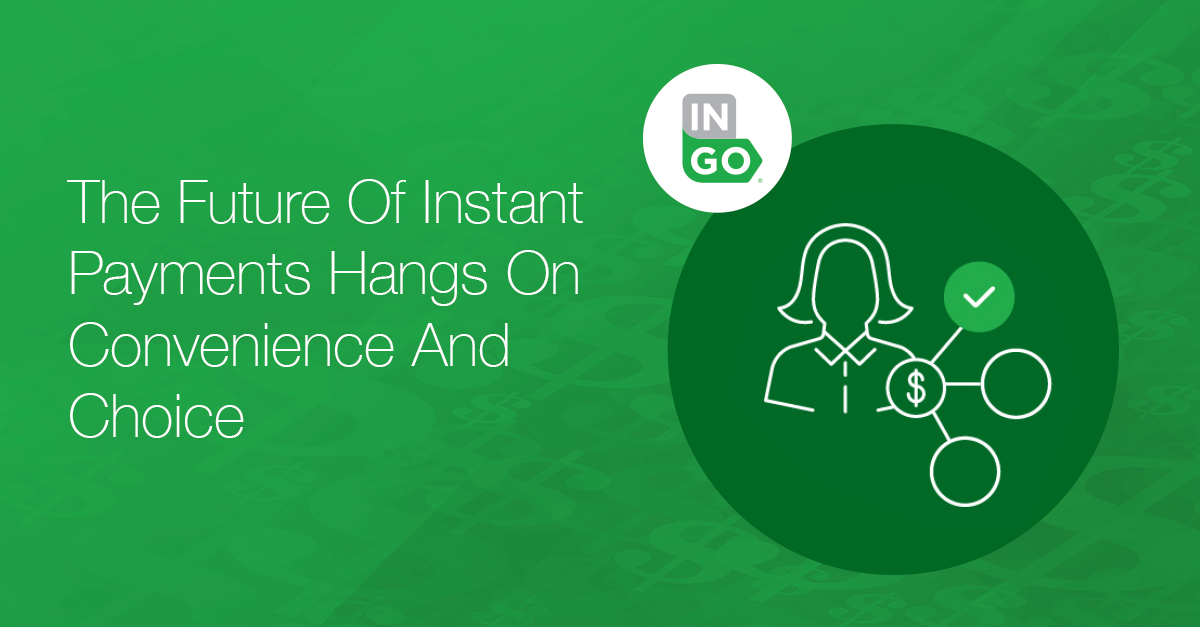 Life is full of necessary evils. But while parallel parking and waiting on hold for customer service were once thought to be unavoidable hassles of everyday living, technologies like hands-free parking and chatbots have helped to eliminate them.
Paper checks are no different. No one will ever consider them to be the best, fastest or cheapest form of payment – only the most widely used. Consumers rarely enjoy writing them, and businesses don't like paying for them or assuming the risk of issuing them.
Today, the paper check is on the verge of being assigned to the dustbin of history by instant payments technology. It's no longer good enough to use checks for payment simply because they work.
Giving the Customer All of What They Want
This move to check-free payments has largely been driven by customer demand.
Survey after survey show that people want to be paid instantly, conveniently and with choice. We've seen that same demand play out when deploying instant payment options for clients. Consider our recent experience rolling out an instant payments solution for a large insurance industry partner.
Traditionally, insurance companies can pay out claims through millions of paper checks a month. Soon after launching the Ingo Money instant payment solution, our partner began offering customers the choice between a check or a digital payment. Ninety percent (90%) of responding customers chose to ditch the check. And of the 90% who preferred digital, 90% opted for instant payments. The customer is always right!
But the key to a successful digital payments solution is more than just instant. All customers have distinct preferences for receipt of funds and they expect a digital solution to cater to each of those expectations. To succeed, enterprises offering instant payments must not consider optionality an option.
At Ingo Money, we enable these choices as the default. Our technology dynamically authenticates each customer and the accounts they choose for receipt of funds based upon their preferences. After that initial authentication, the customer is then free to choose their method of payment and account from a menu of options.
By catering to customer desires for speed, choice and convenience, companies are able to make payments a competitive differentiation – all while reducing their own cost and risk. The appeal of instant is spreading and businesses are clamoring to climb aboard.
The Next Evolution
Instant payments are supplanting paper checks in the "ad hoc payments" arena because there is an obvious problem to solve. But instant payments are also proving their worth for other payment situations as well.
ACH has long been considered a viable system for managing recurring payments. It can be cumbersome at initial setup, still relies on traditional settlement windows, and has an element of risk. But once the first payment has been made, it largely functions well – initially making it a less likely candidate to be replaced by instant payments.
But cracks are beginning to appear. The gig economy, which is now estimated to employ 15-20 million people, was one of the major drivers in igniting consciousness around instant payments.
Workers that were able to source gigs on-demand wondered why they couldn't be paid in the same way – on-demand after completing those jobs. As instant payments became more commonplace for gig workers, regular wage workers then began wondering why they were left waiting two weeks to get paid.
Companies that rely on recurring ACH payments because they just "work" are increasingly feeling the pressure to now offer payment and wage options that are even faster than ACH and available on-demand.
That expectation of on-demand payment has also extended into B2B payments where companies must concede to the changing payment desires of contract workers or small-to-medium-sized businesses (SMBs) and consumers. Interestingly, instant payment technologies offer flexible, smarter payment arrangements wherein a payor might digitally offer partners the option to receive full payment in 30-days or 98% of the payment instantly upon completion of the work.
Instant payments can also improve "me-to-me" or peer-to-peer (P2P) payments. Traditionally, P2P solutions operate point-to-point within an ecosystem such as Venmo or Zelle. With a one-to-many payments platform like Ingo Money that offers choice, P2P solutions can now offer the ability for consumers to pay anyone using "anything in their pocket" – meaning they can choose to send funds from any of their own accounts into any account of the recipient…all within minutes.
Ultimately, the future of payments and how instant will evolve into new applications is wide open. But what is certain is that these new options will revolve around meeting consumer demands for speed, convenience and choice. For business, that will also open up a new monetization paradigm that simply doesn't exist today.
Tune into the podcast on PYMNTS.com, 'Simple' Will Be Instant Payments Breakthrough Innovation