Why 2021 Is All About Disbursements 3.0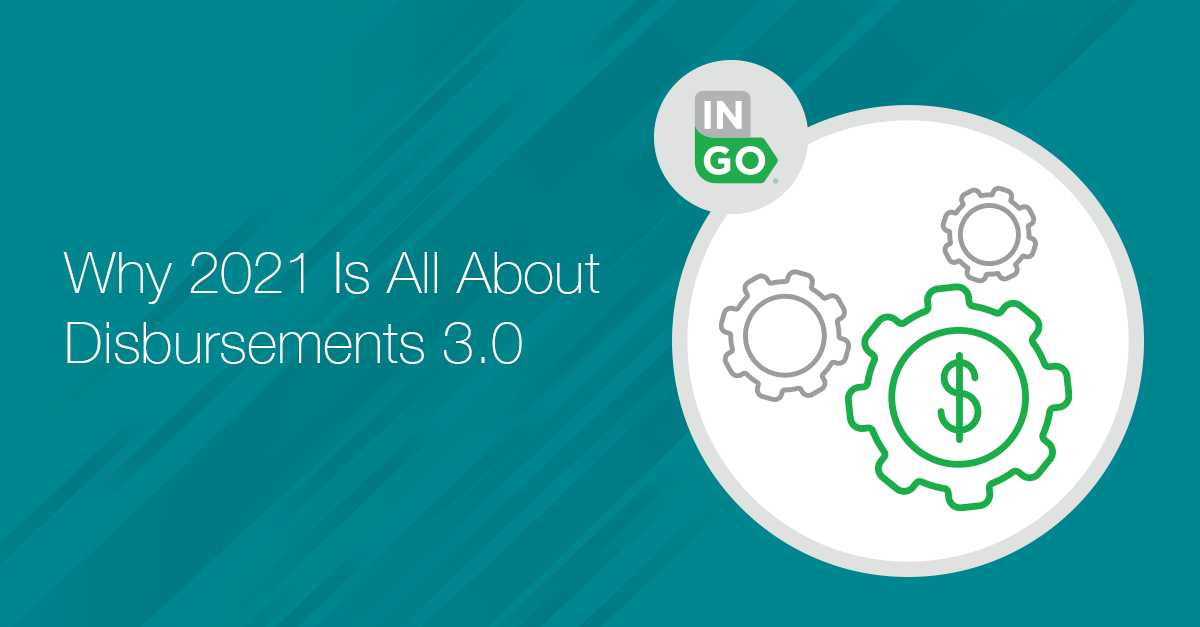 Ushering In The Era Of Disbursements 3.0
Depending on who you ask, old-style disbursements began their digital transformation in 2017 when Uber disrupted the traditional idea of payday, introducing on-demand payments and early wage access. When ACH was still considered fast, that was transformational.
The progression from paper dominance and ACH to point solutions to the stage we're entering now – let's call it "Disbursements 3.0" — is creating startling new possibilities for instant payments at scale, with a growing number of use cases forged out of pandemic necessity and FinTechs, like Ingo Money, creating next-gen disbursements experiences.
As we enter the Disbursements 3.0 era, it's important to understand the pain points that were solved to get us here. If Disbursements 1.0 was a point solution and our first taste of instant, then Disbursements 2.0 introduced payments choice, and while met with open arms, posed new integration and digital experience challenges for the early adopters.
Evolution Meets Revolution
Disbursements 2.0 centered on moving beyond the card and adding choice to speed.
In the Disbursements 3.0 era, speed and choice are more like the tip of the spear as APIs increasingly connect the expanding universe of payers and receivers in real time. This is where a payments network like Ingo Money, bring not just velocity, choice, security and compliance to enterprises and SMBs payouts but also enable complex use cases and the monetization of payments choice.
3.0 really takes flight when companies have an ability to execute payouts consistently across any use case and to offer both free and instant, fee-based funding options that serve to offset payout costs while letting their customers control access to their money.
With 3.0, payers have an ability to pay everyone, however they want, which in turn can lead to greater customer satisfaction and deeper engagement.
Disbursements 3.0 Embrace Flexible, Configurable
Dividing the time periods of recent payments history into Disbursements 1.0, 2.0 and 3.0 is an inexact science, obviously, but meant to illustrate where payments are evolving.
In our view, choice becomes broader in the Disbursements 3.0 era that we're entering. It will involve finer control over not just where the money goes, but how and when. It opens a wider discussion into the economics of 3.0 disbursement opportunities for the payer side, to benefit from choice and to reduce operational costs.
Flexible, configurable platforms and marketplaces are bringing forth innovations for the disparate needs of verticals – from insurance to government agencies, payers and receivers – and abandoning ways of doing business that, while familiar, are now hopelessly outmoded.