Why I Joined Ingo Money: Alex Cooper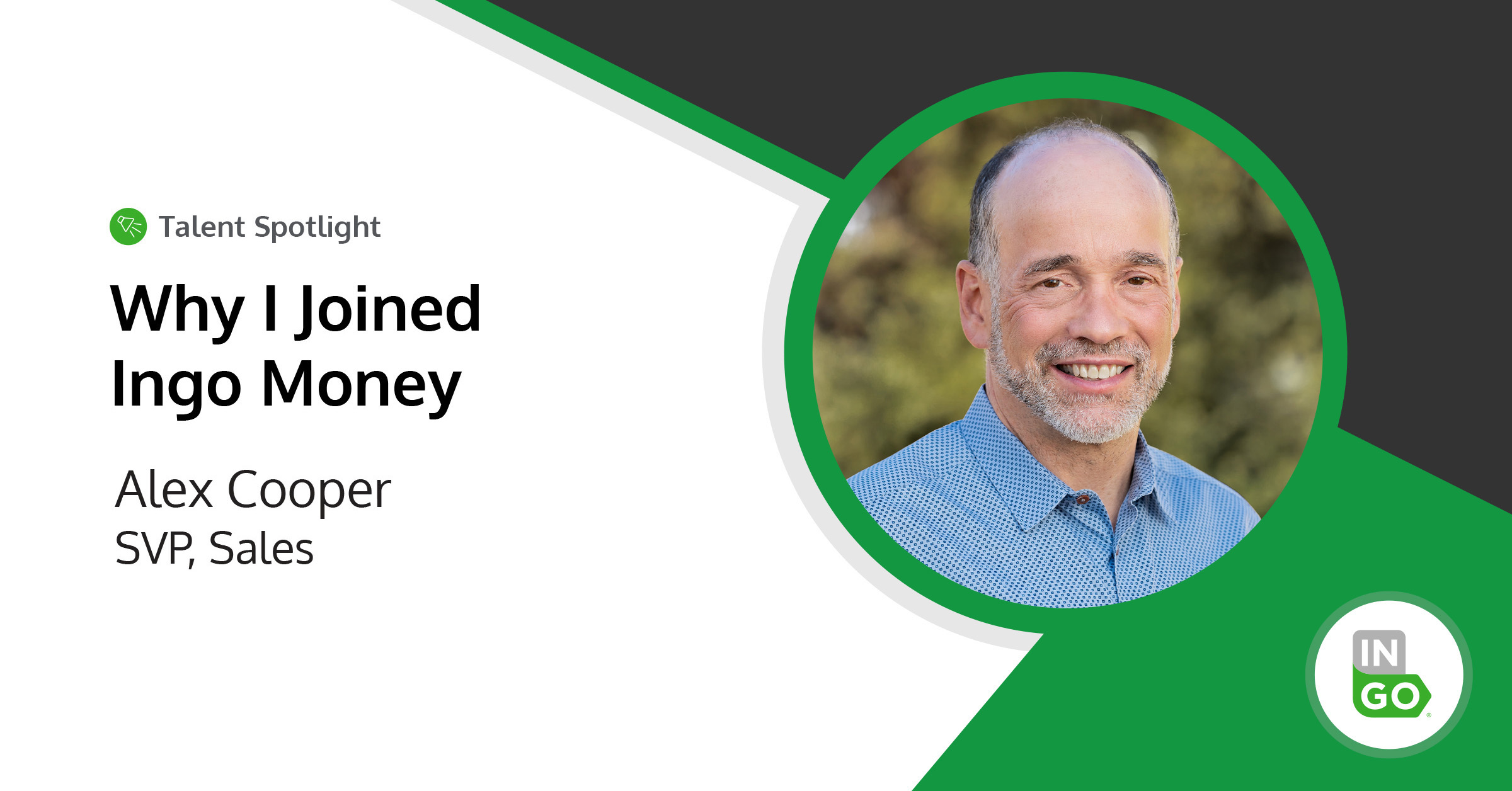 In a word, the answer to why I decided to join Ingo Money is "Simple." I find Ingo's approach to payments very refreshing. They strive to make something very complicated simple.
Payments are complicated; I am not trying to tell you otherwise. Get it right, and nobody gives you a pat on the back. Get it wrong, and you are dealing with fraudsters, upset customers asking where their money is, or even worse, regulators and police authorities.
I have been in payments and fintech for a long time, including starting three companies, working at four fintech startups, and other FIs and processors. Unfortunately, many payment technologies and processing companies don't understand their client's payments, specifically fintechs and Independent Software Vendors (ISV). Don't get me wrong, they all have great technology and can scale your payment processing into billions of dollars. But the problem is they all make it way too complicated!
This issue is that both the customers I have helped and the solution providers I have represented tend to focus on the wrong things. They are looking at technology and costs. The typical questions are around APIs, Gateway, Devices, Tokens, etc. Tell me how many BPS (percentage points you charge per transaction). These are necessary items. However, I think the dialog between the customer and vendor and the evaluation needs to start from a different perspective. Why do you want to offer payments in the first place? How is it going to help your business grow? How do you ensure the risk of integrated payments into your offering does not hurt your company financially or reputationally? Are you offering the right payment modalities to your customers? What will help your customer adopt electronic payments? What are the benefits that the software vendor's customers get?
Ingo Money has great technology. In my view, they have the most ubiquitous set of payment options to move money instantly for the most in-demand use cases in fintech. These included disbursing funds for insurance payouts, restaurant tip payouts, lending, incentives, me2me transfers, account funding and sports betting, to name a few. But what sets Ingo money apart is the ability to manage all the complexity and risk that comes with payments.
How do you know that the card or bank account of the customer you are sending payment to is the right one? How do you ensure that all the appropriate anti-money laundering and know your customer checks have been applied before sending payment? What happens when a payment is rejected? Ingo Money has risk monitoring and fraud tools built from decades of monitoring fraud and identifying good and bad actors. But what has impressed me the most is that they have the people to help clients manage these issues and exceptions. They have the organizational maturity to help a fintech manage their payments, not just process them. I know it sounds cliché to say it's about people in payments. If you can't get your current payment processor on the phone when you have a problem or emergency, you have the wrong partner.
I am excited to be with great people and organizations ready to make their clients successful.