Disbursements Tracker – April 2020
April 9, 2020
How do you see COVID-19 affecting the ways businesses and other entities are handling disbursements, and are these changes likely to continue after the pandemic?
"Much will be learned from COVID-19 in terms of how disbursements will be handled, with probably the most significant insights coming from the U.S. government and how it is having to deal with the disbursements of stimulus payments to both consumers and small businesses.
It is becoming more evident that those who need the money the most, and the fastest, may find it challenging to receive it through the government's primary disbursement solution, direct deposit done with account information from previous tax returns. Perhaps an individual didn't file taxes or changed bank accounts or does not even own a bank account to which funds can easily be distributed. The fallback becomes checks, which take even longer to arrive.
The financial challenges stemming from COVID-19 put into perspective the need for a better, modern disbursement solution — one that is ubiquitous, digital, 24/7 year-round, on-demand and with an ability to provide people with choice in how they receive their funds with many instant payment options.
A disbursements marketplace, like Ingo Money, has the promise of providing that seamless disbursement experience to businesses and government entities with an ability to authenticate individuals or small businesses, verify their account information and facilitate payment choices that go beyond bank accounts, including debit and credit cards, prepaid cards, mobile wallets, cash and even checks.
What matters is that people get to decide how and when they receive their funds in the easiest and most efficient manner that works for them. The more instant options, the better — in this environment and likely for the foreseeable future.
Banks and businesses see the writing on the wall. What is likely to change after the pandemic is faster adoption of instant digital disbursement solutions that better prepare them to facilitate disbursements in real time and on demand, especially in times of great need."
Drew Edwards
CEO at Ingo Money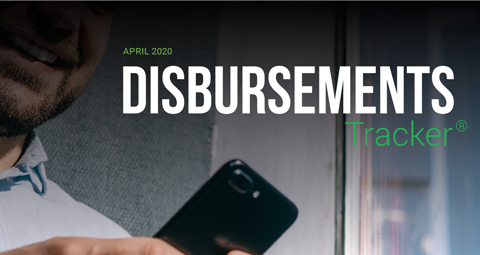 Table of Contents
WHAT'S INSIDE
A look at the latest disbursements advances, including the U.S. government's efforts to support consumers during the COVID-19 pandemic and a federal agency's plan to enable faster disbursements to SMBs
FEATURE STORY
An interview with Michele Schmitt, senior product manager for insurance technology firm Trōv, on mobile disbursements' challenges
NEWS AND TRENDS
The most recent disbursements headlines, such as how businesses can avoid costly duplicate disbursements and why firms still rely on paper checks for B2B payments
DEEP DIVE
An in-depth analysis of mobile disbursements' growing appeal among both consumers and businesses and how firms with less capital and a lack of technological infrastructure are catering to this need
PROVIDER DIRECTORY
A look at the top disbursements companies, including two additions: Chase Pay and MuchBetter
// Related Resources
Employees Need Their Money — Now

Paper Processes Slow Government Disbursements

Money Mobility Tracker – September 2022

The future of money mobility will hinge on balancing convenience and cybersecurity

Phone-To-Phone Payments: The Next Frontier