Disbursements Tracker – July 2020
July 6, 2020
In what ways has the COVID-19 pandemic highlighted the need for payments innovation within the SMB lending space?
"It is no secret that small businesses are the backbone of the economy. To assign some numbers, SMBs account for approximately 48 percent of the U.S. economy and provide employment to about 60 million U.S. residents. Unfortunately, over the last few months, we have seen the effects of the COVID-19 pandemic ripple across a wide variety of SMB sectors, causing a devastating impact on revenues and, ultimately, employee headcount. During these uncertain times, clearly many SMBs have a pressing need for financial assistance.
While we have seen significant innovation from SMB lenders in the form of underwriting, many of these lenders continue to disburse loan proceeds via old-fashioned methods. That is, SMBs can be approved for loans in minutes but then have to wait several days to receive the funds via checks or ACH. Furthermore, from a health standpoint, another problem with checks is dealing with the risk of transmitting the virus via handling the payment instrument itself.
Making matters worse, if an SMB is forced to wait on delayed funding from a loan, this slowdown not only affects payroll but could also impact the timing of payments made to their vendors — vendors who are also likely impacted, cash-strapped SMBs. It is easy to see how this creates a downward spiral for the affected businesses. During situations like the COVID-19 pandemic, where the need for working capital is underscored, prioritizing an instant, digital payments strategy is of the utmost importance. Digitization not only helps minimize the spread of the virus but also gets funds in the hands of SMBs at a time when they need it most."
Drew Edwards
CEO at Ingo Money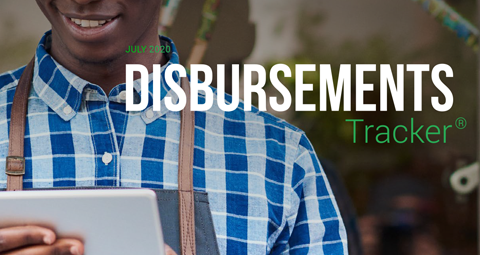 Table of Contents
WHAT'S INSIDE
A look at the latest disbursements developments, including why the U.S. government is still struggling to send out loans to SMBs affected by the COVID-19 pandemic and why eCommerce company Amazon has partnered with Goldman Sachs on a new SMB credit line
FEATURE STORY
An interview with Kathryn Petralia, co-founder and president of SMB lender Kabbage, on how automated tools and speedy digital disbursements can quickly provide today's SMBs with funds they need to stay afloat during the COVID-19 pandemic
NEWS AND TRENDS
Recent disbursements headlines, including why disbursement frictions with the U.S. CARES Act persist and how FIs and lenders in the U.K. are responding to SMB funding needs as the COVID-19 pandemic continues
DEEP DIVE
An in-depth analysis of how the pandemic is bringing legacy FIs back into the SMB lending industry and why these entities must work quickly to innovate paper-based lending and disbursement processes to address financially frustrated SMBs' needs
PROVIDER DIRECTORY
A look at the top disbursements companies, including two additions: KiaKia and Toss
// Related Resources
Grasshopper on the importance of offering secure, frictionless money mobility.

Regions Bank on providing superior and secure money-out mobility experiences.

An in-depth look at consumers' habits and preferences when opening and funding new accounts, whether traditional or digital-first.