Disbursements Tracker – June 2020
June 2, 2020
What are some of the ways check-based disbursements are affecting consumers and healthcare providers during the COVID-19 pandemic, and how can the ensuing issues be resolved?
"The COVID-19 pandemic is taking its toll across the healthcare sector, and from a payments standpoint, the legacy mechanisms in place today to pay out the increased number of claims disbursements — check and ACH — are far from ideal. Checks are costly to health insurers and can take weeks to arrive to the intended recipient. ACH, while faster, may still not be fast enough. The pandemic is appearing to disproportionately affect lower-income households, many of which may be unbanked, so getting claims payments distributed as quickly as possible is critical to helping these consumers pay for basic necessities like rent, utility and grocery bills.
Opportunity lies in an instant payments solution. A 75 percent share of disbursements recipients in a recent PYMNTS study said they wanted to receive instant payments because they gain instant access to funds. Businesses and banks across industries, including auto and property insurance, are beginning to make the shift. These companies are paving the way, and healthcare is the next insurance type primed for innovation.
By leveraging an instant payments platform that delivers choice, consumers can select where they want their healthcare claim payments sent — immediately to bank accounts they own, to prepaid cards or even mobile wallet accounts.
There are challenges to execution, as healthcare payments involve multiple parties, consideration of Health Insurance Portability and Accountability Act privacy rules and document sharing for explanation of benefits. The evolution is upon us as industries move toward a fully digital experience that can provide customers with the best possible customer experience."
Drew Edwards
CEO at Ingo Money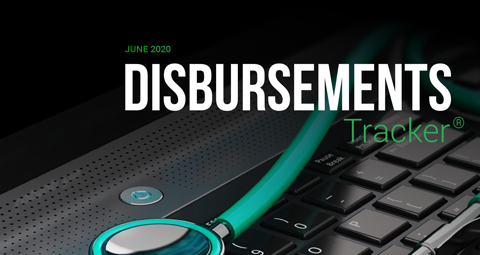 Table of Contents
WHAT'S INSIDE
A look at the latest disbursements developments, including how healthcare providers are struggling with related innovations and why the U.S. government is still experiencing problems disbursing stimulus checks to its residents
FEATURE STORY
An interview with Andrew Toy, president and chief technology officer at health insurance startup Clover Health, on why check disbursements to healthcare providers are especially damaging during the COVID-19 pandemic and how digital payouts can help
NEWS AND TRENDS
Recent disbursements headlines, including how health worries could be driving mobile disbursement tools' adoption in the U.S. and why instant payment ubiquity is becoming critical for businesses
DEEP DIVE
An in-depth analysis of how the COVID-19 pandemic is affecting perceptions and uses of digital technologies and payment methods in the healthcare industry
PROVIDER DIRECTORY
A look at the top disbursements companies, including two additions: Mamo Pay and Rapyd
// Related Resources
Employees Need Their Money — Now

Paper Processes Slow Government Disbursements

Money Mobility Tracker – September 2022

The future of money mobility will hinge on balancing convenience and cybersecurity

Phone-To-Phone Payments: The Next Frontier