Even Same-Day ACH Too Slow for Consumers as Instant Payouts Rewrite the Rules
December 17, 2021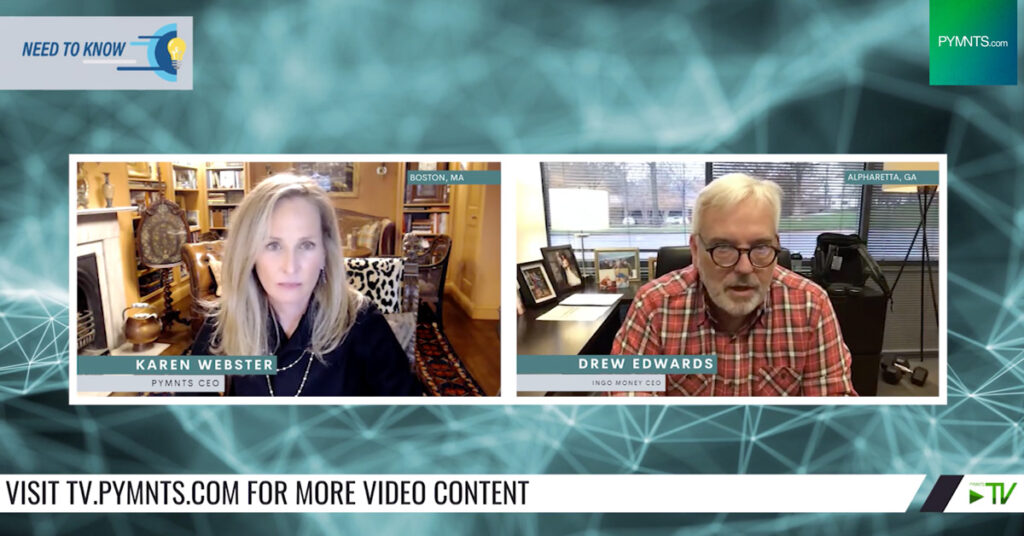 If government COVID stimulus disbursements leave a lasting impression — and they will — it will be on consumer awareness that same-day (and even instant) payout options are now widely available for everything from banks and insurance firms to online gaming sites.
This will transform payments, though our penmanship may suffer from not writing checks anymore.
PYMNTS' fourth annual report in The State of Consumer Disbursements 2021, an Ingo Money collaboration, found that 17% of disbursements are now instant, and 21% are via same-day automated clearinghouse (ACH). The writing for 2022 and after would appear to be on the wall (or in the wallet).
As Ingo Money CEO Drew Edwards told PYMNTS' Karen Webster recently: "Who doesn't want to get paid faster? Same-day ACH was easier to consume because everybody that was doing regular ACH could just as easily do same-day ACH. But I always saw that as a stopgap. To do it right, it should be real time."
It took many years and a global health crisis to get the financial system unstuck from its old ways. Consumers led the way, as they did in popularizing peer-to-peer payments, with The State of Consumer Disbursements finding that awareness of same-day and instant options grew 50% over last year.
Edwards called this changeover an inevitability that nevertheless faces obstacles.
"One of the big challenges in our business is process change on the payer side. To go from a batch file to your check printer to a batch file to ACH was easy. To move to individual transaction-by-transaction [application programming interface] integration required a lot more work, but it was always a matter of when, not if."
That "when, not if" dynamic led him to dub 2022 as "the year we overtake ACH."
Instant Disbursement Use Cases Bloom
With the study finding that consumers averaged roughly three disbursements apiece over the past 12 months, Edwards pointed to "a surging, overheated economy fueled by billions and trillions of dollars of government stimulus and almost zero unemployment. We're in overdrive right now, and there's a lot of money flowing in both directions."
While government stimulus widened the aperture for same-day ACH and instant disbursements, its future is in more common use cases including rebates and warranties, legal payouts, investment income, gaming winnings and the rising trend of early wage access.
As Edwards told Webster, "We talked many years ago about the future demise of the biweekly payroll cycle and people getting paid every day. It's gone even further than that in a lot of cases — after each drive, after each delivery in the gig economy, and then the whole advent of online gaming in 11 or 12 states. At the core of [these new use cases] is payouts."
While 71% of study respondents confirmed that they're being offered more payout options today, 66% said they would simply go elsewhere if not offered a same-day or instant choice.
Checks and cash took a drubbing, but as a longtime critic of paper, Edwards wasn't surprised.
"Remember, a big part of our business [is that] we get paid to convert paper checks into what we would call 'good funds.' If you just give somebody a check as a choice, it's not only slow, it's not real money," he said. "That's what everybody forgets. A check is just a promise to pay, not a payment. It's got to clear through the system, through the bank, and people can change their minds. The check is a risky instrument."
Paying for Speed Is Okay by Consumers
While paper check disbursements were roughly halved from 2020 levels, digital wallet disbursements — namely to PayPal — more than doubled this year.
Edwards supports all forms of fast money movement, but he's laser-focused on real-time payments.
"We, too, see more and more adoption to PayPal in our payouts and less and less adoption to checks and less and less adoption to ACH when we're talking about consumers," he said. "Push to card, growing. Push to PayPal, growing. Push to cash, almost nonexistent, even though we do it. Push to checks, generational. We all get ACH, and I don't have a problem with ACH. I actually make the same money on ACH as I do anything else. But it's not real-time."
The conversation turned to survey findings that people will pay fees to get money instantly. This is perhaps the lynchpin of real-time and instant becoming a business, not just a service.
"If you want balance, even from the payer side, I have some cheaper rails that are slower, I'll give you that for free," Edwards said. "If you'll pay a little bit, I can get you your money faster. Eight out of 10 times, they'll pay for speed. I beat this example to death, but we all do it at the ATM."
In the latest State of Consumer Disbursements study, twice as many consumers said they will pay a fee for same-day and instant funds, illustrating the trend's velocity.
Saying that's being pushed along faster by the gig economy, Edwards told Webster, "If you went back a while in my business, the people who were paying for speed and certainty were marginal consumers. Think about where we all are today. DoorDash and Uber Eats get so much money from me because we've all gotten lazy. It's convenience fees."
As for the breakout application that finishes off slow money, both agreed that the "me-to-me" trend of individuals moving funds between apps and accounts may go primetime in 2022.
"I think that's the sleeper use case," Edwards said. "We've talked a lot about B2C and B2B. Personally, I think 'me-to-me' is where a lot of the volume starts to kick in, as well as P2P."
// Related Resources
Everyone, from plumbers to groundskeepers to HVAC companies and movers, needs to get paid.

Healthy money movement is essential to the healthcare industry.

The launch of FedNow on Thursday (July 20) brings the tally of real-time payments networks to a duopoly in the U.S.