Disbursements Tracker – October 2020
October 14, 2020
How should treasurers adapt their operations to ensure that they can provide their business clients with the speed and security they need to manage payments and disbursements in today's changing financial environment?
"In today's changing financial environment, bank treasury executives should be thinking about the concept of 'future-proofing' their offerings for their clients by partnering with leading FinTechs that can iterate solutions to the challenges… banks' corporate customers face both now and continuously into the future. Modernizing payments today is a start, but keeping things current and modern tomorrow is an ongoing challenge.
The right FinTech partner will continuously invest the time to engage and listen to the individual pain points corporates face and then quickly innovate subscription-based solutions that support the bank's relationships and solve the challenges their institutional clients face. An example would be continuously expanding one-to-many gateway solutions to relevant payment types in consumers' wallets without the need for the bank to invest in direct integrations. Another example could be continuously updating business process solutions for the corporates that enable great customer experiences and drive adoption in a rapidly changing world of consumer expectations, such as payee payment choice and 24/7 year-round, on-demand disbursements.
Large banks by design entrench deep pillars of safety and security into their operations and offerings to safeguard extremely large asset pools and extensive capital markets and credit facilities with enterprise clients. Change is a function of evolution for a large bank, not iteration. FinTech partners can provide that iterative layer, keeping the bank current and relevant while the evolution happens at a bank's pace.
As the pace of change and innovation in the world of payments and banking continues to accelerate with challengers on many fronts, the right FinTech partnerships can enable the largest banks to stay current, keep their customers and thrive."
Drew Edwards
CEO at Ingo Money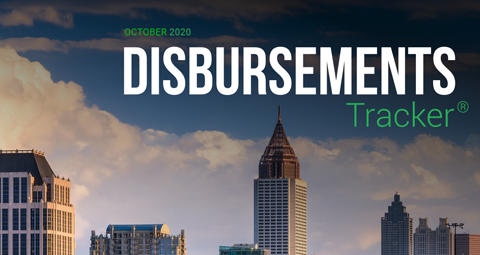 Table of Contents
WHAT'S INSIDE
The latest disbursements developments, such as how the ongoing pandemic has turned instant payment support into a necessity within treasury management services
FEATURE STORY
An interview with Katrina King, executive vice president and treasury management sales manager for Cadence Bank, and Bridgit Chayt, senior vice president and director of commercial payments and treasury management at Fifth Third Bank, on how the COVID-19 pandemic is driving adoption of digital treasury solutions and real-time payments
NEWS AND TRENDS
Recent disbursements headlines, including why the reliance on paper invoices is compounding the paper check problem and why outdated payments infrastructure is hampering FIs' abilities to integrate support for instant payments
DEEP DIVE
A look at the top disbursements companies, including one new addition: Refundit
PROVIDER DIRECTORY
A look at the top disbursements companies, including two additions: Kiva and Lydia
// Related Resources
Grasshopper on the importance of offering secure, frictionless money mobility.

Regions Bank on providing superior and secure money-out mobility experiences.

An in-depth look at consumers' habits and preferences when opening and funding new accounts, whether traditional or digital-first.