Disbursements Tracker – December 2020
December 29, 2020
Late disbursements by paper checks can lead to financial struggles, especially for low-income or unbanked consumers. How can government agencies help provide a better disbursement experience?
"While the government endeavored to offer relief through stimulus check distribution earlier this year, the challenges and delays faced getting funds to the recipients only underscored the need for to modernize payments infrastructure. Sixty percent of Americans are now living paycheck to paycheck, so even the smallest delay is felt.
Those who did receive paper checks — an instrument ripe for fraud itself — not only had to wait extra weeks or months for sorely needed funds to arrive but then had to physically handle them and often had to pay to access the funds. While an improvement over checks, ACH is still a slower, batch-based system. Many of the ACH payments ended up failing, unfortunately, with the government's lack of current account information, again causing further delays the intended recipients.
It became glaringly clear to all that the largest payor of funds can do better as these scenarios played out in an unprecedented year — payments can arrive faster and more conveniently to help consumers and businesses pay their bills on time… and it can happen in real-time to the account a recipient chooses and authenticates.
Modernizing means to deliver government disbursements in real-time and with choice, making all relevant account types and payment methods available in a 24/7 omnichannel experience. More than 50 million government checks still issued annually, some of the biggest use cases with the largest need for modern payments would likely include IRS tax refunds, VA benefits and FEMA payments, in addition to ad-hoc stimulus relief.
The government's undertaking is certainly not easy, but aware of the need and making headway in 2020. If there is such thing as a silver lining for this year, at least within payments, it is that both industry and our government's modernization work has picked up steam and is full speed ahead."
Drew Edwards
CEO at Ingo Money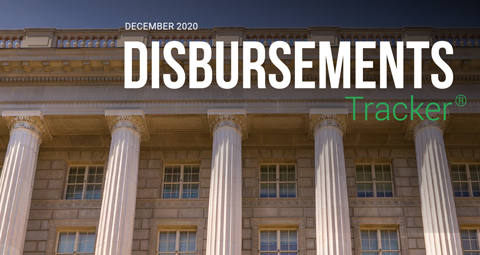 Table of Contents
WHAT'S INSIDE
The latest disbursements developments, including how the pandemic is affecting consumers' and businesses' expectations for disbursements, especially government disbursements
FEATURE STORY
An interview with Linda Jun, senior policy counsel for consumer financial advocacy group Americans for Financial Reform, on why it has become more crucial for government agencies to support multiple disbursement methods to send funds swiftly to varying demographics
NEWS AND TRENDS
Recent disbursements headlines, including how microbusinesses are searching for more faster disbursement options and why the U.K. government is partnering to improve the adoption of mobile-first disbursement solutions in the country's public sector
DEEP DIVE
An analysis of how financially vulnerable U.S. consumers are demanding instant disbursements from governmental and nongovernmental agencies and why these groups' reliance on paper checks can have severe consequences
PROVIDER DIRECTORY
A look at the top disbursements companies, including one addition: JoomPay
// Related Resources
Grasshopper on the importance of offering secure, frictionless money mobility.

Regions Bank on providing superior and secure money-out mobility experiences.

An in-depth look at consumers' habits and preferences when opening and funding new accounts, whether traditional or digital-first.