Money Mobility Tracker – December 2022
December 19, 2022
The online sports betting industry is on a winning streak. After a Supreme Court ruling in 2017 paved the way for states to legalize gambling on college games, sports betting has taken off and is now live in 31 states. At last check, Americans have wagered an estimated $125 billion on sports in the past 5 years. At the same time, Casinos are also doing well, as 34% of Americans visited a casino in 2022, compared to 28% in 2021.
If nothing else, the growth of gambling — in all of its forms — has also highlighted the growing industry's persistent payments problem. Whether the action is focused on an eSports tournament or an online betting platform, the payment experience is frequently plagued by issues related to speed, misuse and the susceptibility to errors. Such a dynamic highlights the importance of payments modernization in the gambling space.
This edition of the "Money Mobility Tracker®" explores the recent success of the gambling industry and how payments modernization is increasingly crucial to keeping this momentum going.
Around the Money Mobility Space
As industries across the business world have adopted cashless payments recently, the casino industry has mostly resisted. In Las Vegas, the world's casino capital, this is beginning to change. Resorts World — the latest mega-resort in the city — now allows customers to play cashless slot machines and table games. Station Casinos has also begun to roll out cashless payment options.
As traditional casinos begin embracing cashless payments, online gambling platforms continue to expand across the United States. Maryland, for example, finally launched its online sportsbooks in November, with companies such as Barstool, BetMGM and others going live with their platforms. This comes after the state had legalized gambling two years prior, with the delay caused by companies needing to navigate considerable bureaucratic hurdles.
DraftKings on Making Money Mobility Both Fast and Secure
As the number of consumers involved in online gambling grows, they are clamoring to receive their winnings through faster payouts. Meeting this need is important, yet speed is not the only consideration. Speed must be balanced with important components such as security. To be successful in the online gambling space, companies must strike the right balance. To get the Insider POV, we spoke to DraftKings to learn more about the best approach to payments in online gambling and how to achieve the speed-and-security balance.
Lack of Payments Modernization Is a Risky Decision
The growth of online gambling and the casino industry is highlighting how payments are both a problem and an opportunity for the betting market. Though consumers have traditionally preferred using cash while betting, this is changing. A survey found that if offered the choice, most respondents would use a mobile application or contactless payment method to wager at a casino. The problem is that consumers are not given the choice: In 2022, just 58% of consumers had a choice of disbursement method for their gambling or gaming winnings, down from 73% in 2021. Casinos could experience a range of benefits by expanding this choice.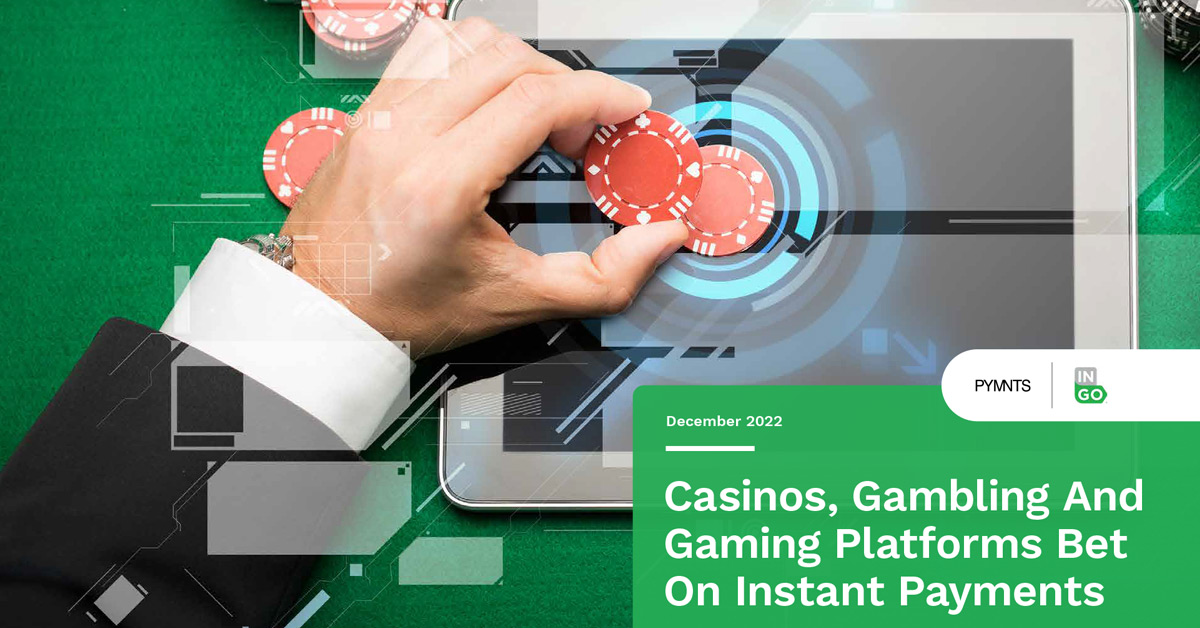 Table of Contents
Gambling's Promising Future Is A Safe Bet
Ever since a 2018 Supreme Court ruling paved the way for gambling in the states, the gambling industry — especially involving online sports betting — has exploded.
Cashless Payments Are Coming To Casinos
Regulators and industry innovators are calling for the casino industry to embrace cashless payments. Due to the pandemic and a desire to gain a competitive advantage, the industry is responding.
Failing To Modernize Payments Is A Risky Decision
Consumers want to receive their gambling winnings through a variety of payment methods, with instant payments among the most desire
Instant Payments Are Here, There And Everywhere
When it comes to how consumers receive their disbursements, instant payments are ubiquitous. Consumers are selecting instant payments for disbursements ranging from insurance payments to gambling winnings.
// Related Resources
55% of Trucking Companies Emphasize AP Innovation as a Crucial Goal

A growing number of consumers are turning to digital tools and payments to facilitate their travel plans.

94% of Canadian Workers Would Seek New Jobs if Pay Was Delayed