Disbursements Tracker – September 2020
September 19, 2020
What are some of the main challenges microbusinesses today are facing when it comes to competing in a post-COVID-19 economy? How can faster and digital disbursement solutions help?
"With 75 percent of SMBs — including microbusinesses — reporting that their revenues are down, competing in a post-COVID-19 economy will require innovation on many levels. This is especially true for those brick-and-mortar businesses that relied on daily foot traffic the slow reopening guidelines have forced many to rethink their business models not only as a short-term means to offset the closure but also as part of a longer-term strategy based on how customers are likely to engage in the future.
With some businesses needing to invest in order to stand up these new business models, managing their cash flows and getting access to cash to buy new supplies, pay bills and make payroll is more critical than ever. This is where faster, digital disbursements can help. To keep pace with the cash flow needs of businesses at this time, it is really the corporations that support these businesses that are more urgently pushing for digital disbursement solutions that go beyond checks and ACH. As a result, we have seen demand accelerate across verticals such as SMB lending and insurance and — given the subpar and often inconsistent execution of the Payroll Protection Program — from U.S. government agencies.
However, in order for SMBs to truly capitalize on the speed of instant payments, they also need ubiquitous choice in payment methods available across the channels they use. There is still much work to do here. A recent PYMNTS study indicated that while the number of disbursements is increasing, the number sent instantly barely breaks 10 percent. To deliver on the promise of instant payment ubiquity requires innovation from the treasury banks that are necessary parties to these transactions but face existing legacy technology and infrastructure challenges. But with FinTechs ready to step in and bridge the gap, the promise is near.
To help keep SMBs going, to help keep the economy moving in a post-COVID-19 pandemic era, the corporates need to keep pushing for instant, so much so that the banks will not be able to ignore."
Drew Edwards
CEO at Ingo Money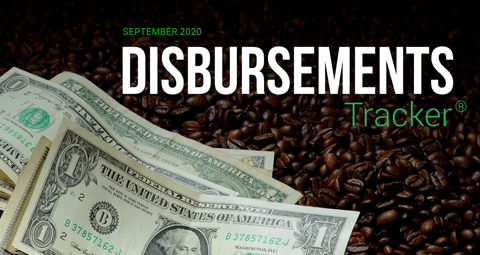 Table of Contents
WHAT'S INSIDE
The latest disbursements developments, such as how sluggish loan disbursements can harm cash-strapped U.S. microbusinesses and SMBs and why the Federal Reserve has pledged to accelerate the development of its FedNow real-time payments system
FEATURE STORY
An interview with Caleb Benoit, founder of Illinois-based retail and wholesale coffee company Connect Roasters, regarding the growing importance of instant payments for microbusinesses' survival during the COVID-19 pandemic
NEWS AND TRENDS
Recent disbursements headlines, including why The Clearing House is confronting problems with achieving real-time payment ubiquity and why payment speed is becoming a top priority for SMBs
DEEP DIVE
A detailed examination of why digital disbursements are proving integral to U.S. microbusinesses' health as well as the factors holding back instant payment growth
PROVIDER DIRECTORY
A look at the top disbursements companies, including two additions: Kiva and Lydia
// Related Resources
Grasshopper on the importance of offering secure, frictionless money mobility.

Regions Bank on providing superior and secure money-out mobility experiences.

An in-depth look at consumers' habits and preferences when opening and funding new accounts, whether traditional or digital-first.