Ubiquity; Impossible without Payment Choice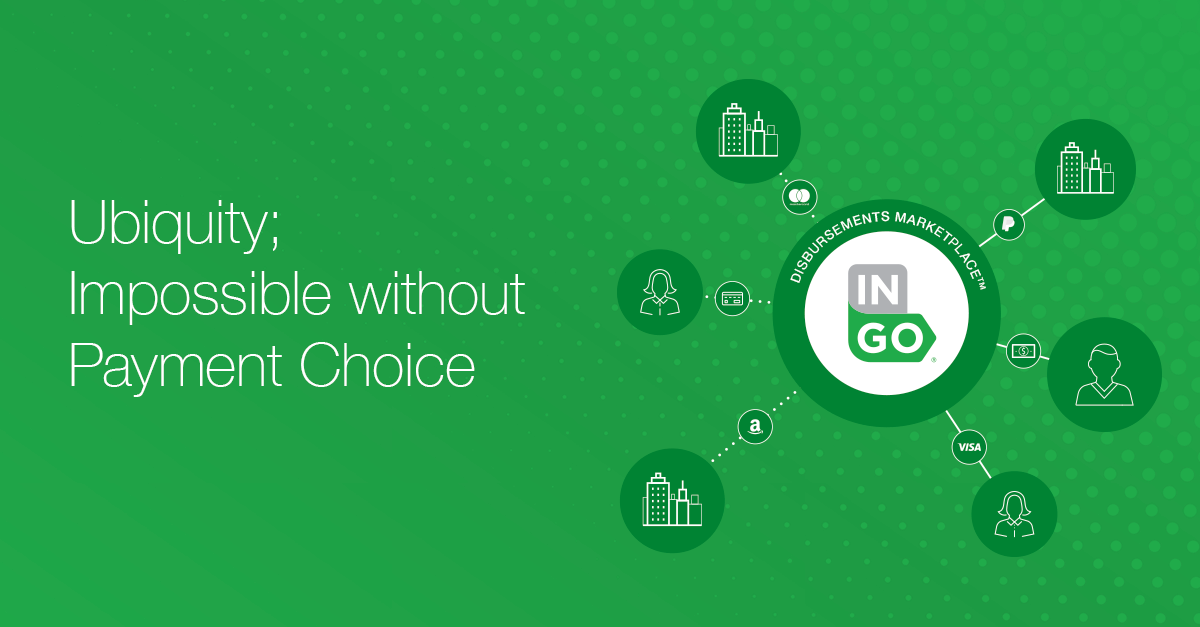 Is it possible to have too much choice?
Not really, when it comes to "how to instant."
Instant payments present a world of possibilities for creating better consumer experiences. The concept is both incredibly simple and incredibly intuitive: offer customers 24/7 access to good funds on demand, however and wherever they want them. Said another way, let consumers get paid the same way they pay you. Let them choose from what's in their wallet, payment by payment if they so desire.
But delivering on that concept — and providing instant push payments on demand and with choice — isn't that simple. It involves a lot more than just providing immediate access to funds by connecting to a rail's API or even a couple of rails' APIs.
Instant payments have to be secure, risk-managed and in line with regulatory requirements, requirements that may vary by state, such as with insurance claims payments. They have to work for many different types of businesses who want to push those funds instantly, and for consumers who want to receive them in a variety of ways. They have to work within a company's customer care ecosystem. And they have to be offered omni channel and with consistent experiences across those channels.
The More 'Rails' the Merrier?
The recent announcement that the Federal Reserve has shown interest in instant payments with the development of the FedNow system has only further heightened the importance of the speed at which consumers and businesses can access funds.
Even so, it would be a mistake to view planned FedNow rails as a major driver of instant disbursements in the U.S. They are just a little bit late to the party.
Ingo Money was one of the earliest players in instant payments. In 2013, Ingo released its first instant push payment product as an upgrade to its check-cashing services where we began asking the consumers on mobile devices "Where do you want your money?" And believe me, when you've cashed a consumer's check and they've paid you a fee to gain immediate access to those funds, completing that transaction immediately is paramount.
Over the last few years we've seen instant payments emerge among P2P marketplaces and the upsurge of volume on platforms like Venmo and Zelle. Then, they gained traction in the gig economy, where the ability to pay workers instantly became a major competitive differentiator for marketplaces looking to attract workers. Those two things were really the catalyst that turned instant payments into a tidal wave here in the U.S.
Now "instant" has spread to lenders, the insurance industry, payroll departments, restaurants, airlines and more. One of the biggest emerging areas include A/P automation solutions for B2B and B2C payments.
Payment options are also expanding. As recently as three or four years ago, the two go-tos were push-to-card options via the card rails, Visa Direct and Mastercard Send. There are now push-to-card services for challenger banks and payroll providers, as well as push-to-wallet options for PayPal, Square Cash, Apple Cash and others. Not to mention emerging account-to-account services like RTP from The Clearing House, Same-Day ACH and the aforementioned FedNow.
From Ingo's perspective, as a disbursements marketplace, the more 'rails' the merrier. More options mean more choice for consumers and small to medium-size businesses in how to receive instant payments.
Navigating What's Next
The opportunity is to create ubiquity by offering consumers and SMBs a choice in how to be paid. That is similar to consumers deciding how they want to pay today: a mix of cash, debit, credit, digital wallets and even checks — all payment methods supported by the merchants they do business with. Forcing consumers or SMBs into a particular instant payment method won't work because that's inconsistent with how they decide to pay today.
The future of "how to instant" for banks and corporates is putting as many options on the table as possible and letting the customers' preference be their "North Star." Ubiquity, then, becomes a function of choice.
It is likely that there will never be a single winning rail, so the question of choosing the "right" one is beside the point.
The better question is what type of experience banks and corporates are trying to create for that consumer or SMB — and then what's required to deliver the maximum number of levers to create ubiquity across all of those endpoints and end users.